In association with the

Tulsa TV Memories presents:

Tulsa-area Drive-In Theatres
Opening night ads, historical data, and some
pictures provided by Wesley Horton, AIDA curator

The drive-ins with links below have their own separate pages. The rest are on this page.

Admiral Twin Drive-In (originally the Modernaire) is at 7355 E. Easton, the only Tulsa drive-in still in operation. Out of service 9/3/2010-6/14/2012 due to fire; now with new screen and concession stand!
Airview at 7500 E. Pine St.
Apache at 3700 E Apache
Bellaire at 709 W. 51st St.
Capri Drive-In (originally the Sand Springs) at 7600 W. Charles Page Blvd.
11th Street (originally the Hi-Way 66) at 9801 E. 11th St.
51 Drive-In (originally the Broken Arrow) at 14007 71st St. NE
Riverside, east of Peoria on 71st St.
Sheridan Drive-In at 4500 S. Sheridan
Skyline at 3800 N. Cincinnati
Cardinal at N. Memorial and State Hwy 20 in Collinsville.
Related pages on this site:

Foreword:

Tulsa's drive-in theatres were built in the late 40s-early 50s, just before television took hold as a mass medium (our first station, KOTV, began broadcasting in late 1949).

Drive-ins combine the pleasures of both at-home TV and sit-down theatre viewing: low expense and privacy, plus an evening out and other folks to keep an eye on.

Despite the advent of home theatre and myriad channels in addition to broadcast television, drive-ins retain a unique charm, especially when they remind us of summer evenings past, spent in a secure environment under the stars.

---webmaster

See the locations of all Tulsa-area drive-ins, past and present online in Google Maps. You can tour the current day sites by switching to satellite view and zooming in, or zoom all the way down to Street View to take a virtual "drive".


The Tulsa World, July 7, 1948


(IMPA=International Motion Picture Almanac)

Wesley: "As far as I know, there were only two drive-in theatres in the state that ever advertised that they were 'Colored'".

Location: 3604 E. Apache (1971 Tulsa City directory), N 36.19136 W 95.937304

(Webmaster: I copied and pasted the above coordinates directly into Google Earth, and landed exactly on the spot in the satellite photo below.)

1948-49 Theatre Catalog/IMPA lists L.E. Snyder as exec. or owner 1948-1979.
1965 IMPA lists capacity as 225.

Closed by June 1984, presumably end of 1983 season.


Google Earth satellite view of the former Apache site. Tulsa Community College to the north.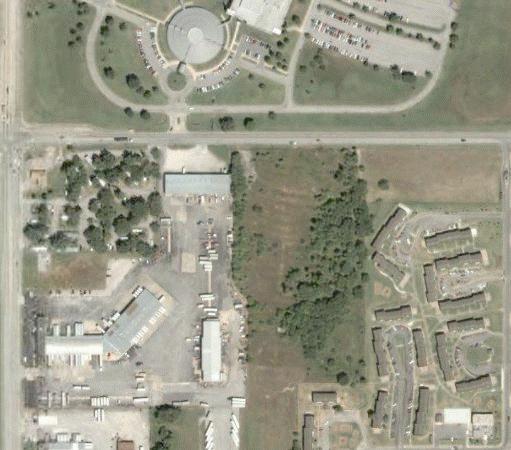 What was left of the marquee, courtesy of citizenkerr

The Apache Drive-In Theater on September 10, 1967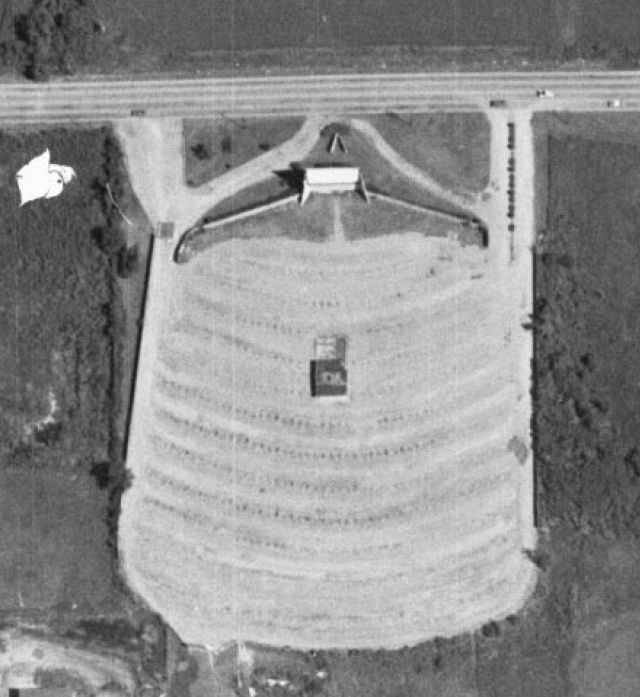 Webmaster, 10/10/2013: From a High altitude aerial photograph over sections 3, 4, and 5 of Township 19N and 13E and sections 27, 28, 29, 32, 33, and 34 of Township 20N and Range 13E , courtesy of the Tulsa City-County Library. This is in section 4, I believe.
The Tulsa Tribune, Friday, June 5, 1953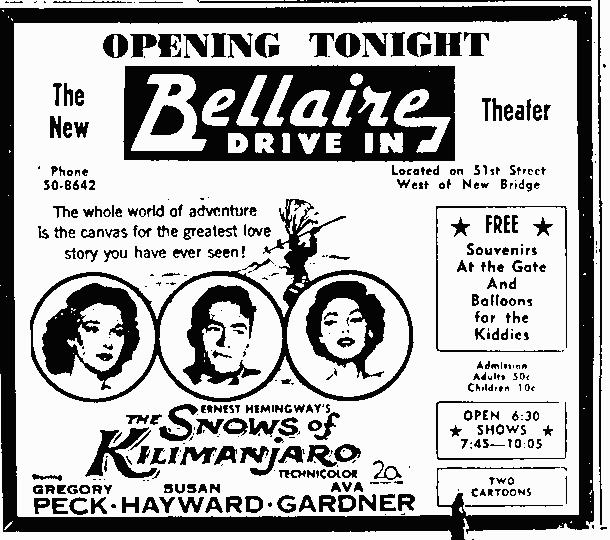 Location: 709 W. 51st, N 36 5' 27.42" W 95 59' 57.23"
Theatre Catalog/IMPA lists L.E. Snyder as owner 1955-1979.
1965 IMPA lists capacity as 600.


The Bellaire Theater, Sept. 10, 1967.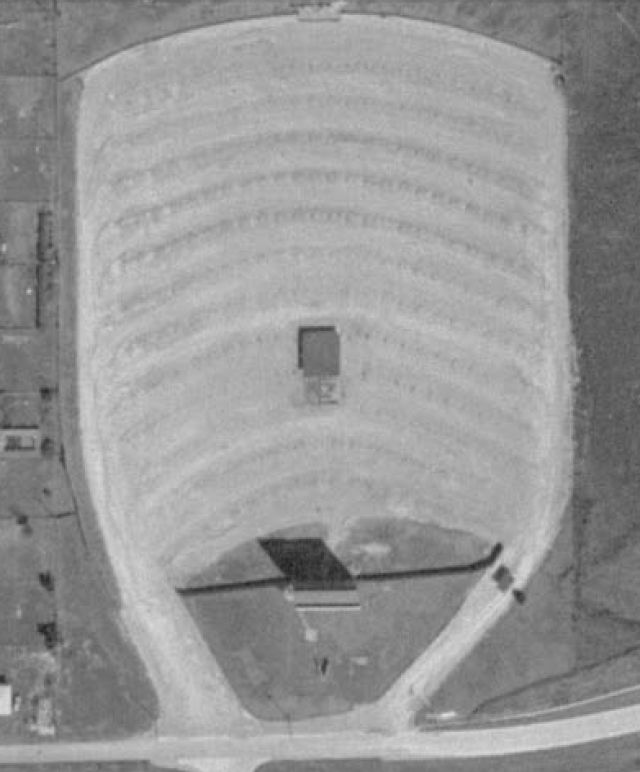 Webmaster, 11/3/2013: From a high altitude aerial photograph over sections 13, 14, 15, 22, 23, 24, 25, 26, and 27 of Township 19N and Range 12E, courtesy of the Tulsa City-County Library. This is in section 26.

The Bellaire Theatre, Sept. 10, 1967. Wider view from same photo, north at top.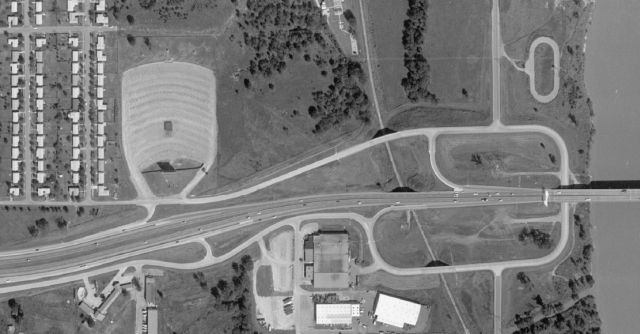 At bottom: the Pepsi plant. Bob Hurley Ford is on the Bellaire spot today. Same view on Google satellite.

(from Guestbook 53) Liz Beall Eubanks said:
I don't see much about the Bellaire Drive-in. My cousin lived on the street behind it and you could watch it from his roof. We lived 2 streets over and could see it in glimpses from the tall swingset in our yard. My grandparents lived on the street where when the drive-in let out, all the cars drove by the house. It was hard to sleep at their house when the movie was over in the summer with the windows open. I remember my mother popping a dishpan full of popcorn, piling all 5 of us in the Rambler station wagon, and going to see a triple John Wayne feature. I never made it through the first movie. (Past my bedtime!)

(from Guestbook 99) Mitch Schauer said:
Recently, I had the opportunity to re-view "Godzilla vs. Hedora." The movie brought back memories of going to the Bellaire Drive-in back in 1972 and seeing the English-dubbed Japanese horror flick under its original title, "Godzilla vs. the Smog Monster."
One thing I recalled regarding the Bellaire was its proximity to Tulsa's waste processing plant. The pungent odor of excrement indirectly lent the film's loopy villain a certain "air" of authenticity.
Now, nearly 30 years later, the movie STILL stinks, but I do miss the long gone Bellaire drive-in.
P.S. The waste plant also prevented the Bellaire from becoming a top-notch makeout spot.

(via email, 9/13/2004) Bryan Crain said:
Turnpike Ford (now Bob Hurley Ford...webmaster) actually sits on the land that was once the Bellaire Drive-In. It was an empty field up until the early-mid nineties..until Turnpike came along. Me and some of my friends "scouted" around the lot in 1989 or so, there were still bits and pieces of it still around (empty marquee, "humps"...etc.)
66 Drive-In Grand Opening, Aug 21, 1947. Became the 11th Street Drive-In, 1964.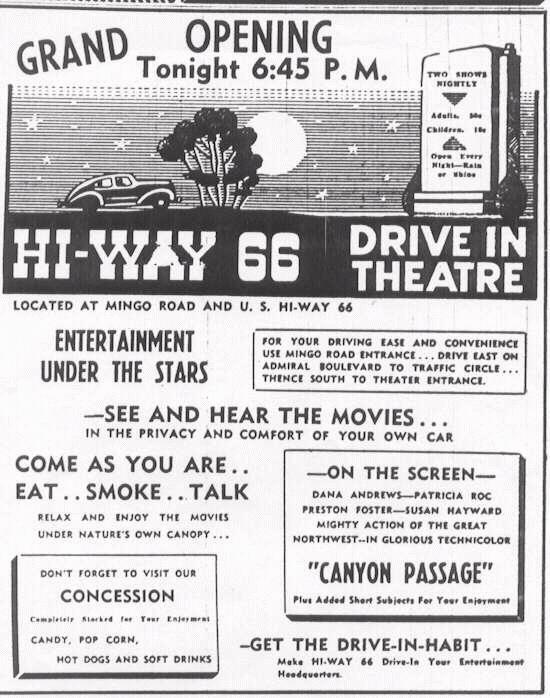 Brian Donlevy was co-star of "Canyon Passage". Oddly, the ad mistakenly credited Preston Foster, who wasn't even in the movie. See Mr. Donlevy in Tulsa circa 1960 on Louise Bland's page.

Location: N 36.148107 W 95.867086
Entry on north side of street.
Satellite photography shows unknown industrial buildings on site, no remains.
Operated by Griffith Theatres Aug 21, 1947 until Aug 14, 1960.
Rebuilt as 11th Street Drive-In Theatre, March 4, 1964.
Address given as 9739 E. 11th (1971 Tulsa City Directory)
Operated until Sept 15, 1982.
Open 5 Sept 82, closed on 6-83

1948-49 Theatre Catalog lists Griffith Theatres as Exec.
1949-1950 Theatre Catalog lists Griffith Metropolitan Theatres as owner.
1955 Theatre Catalog lists Video Theatres as owner.
1965 IMPA lists Griffith Metropolitan Theatres as owner, capacity as 562.
1979 IMPA, lists capacity as 500. Owned by Video Theatres.
1984 IMPA lists Video Theatres as owner.

66 Drive-In Theatre (later the 11th Street Drive-In), August 21, 1948 (Delner L.Curtis Aerial Photo Service)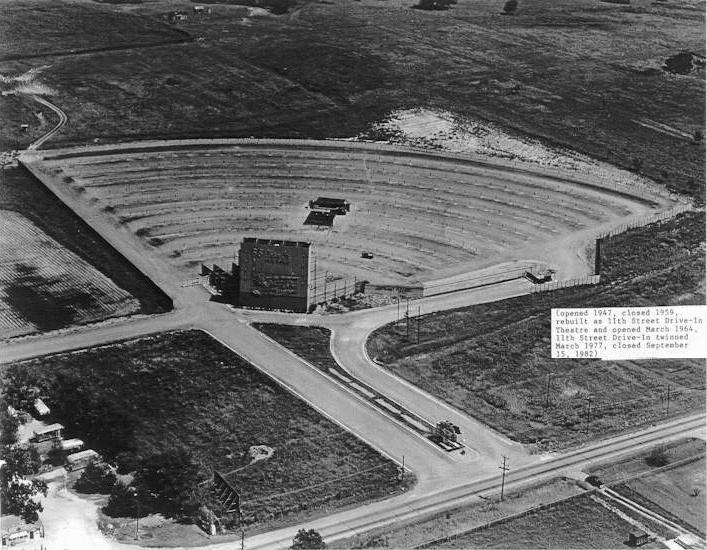 (from Guestbook 77) David Bagsby said:
A rating I remember seeing back when those things started up was "M" for Mature audiences. Later this was supplanted by the ubiquitous "R". I remember watching "Night of Dark Shadow" backed with "Fearless Vampire Killers" at the 11th St. Drive-In and for my birthday present the year I turned 13, my folks broke down and took us back to the 11th St. to see "Enter the Dragon"...my first "R" movie. I was the envy of Troop 81.

(from Guestbook 92) David Bagsby said:
Help...this is a bit off topic, but I am trying to track down a movie from the late 60s/early 70's. The style was like a serious Matt Helm-type affair with strange guys in trenchcoats, hats and dark sunglasses going around and shrinking people by pinching them on the neck then stuffing the vacated clothing into a satchel. Anyone recall what this was?

(from Guestbook 100) Brian replied:
I'm 99% sure it's WILD WILD PLANET, an Italian sci-fi film released to the US in 1967. It has to be seen to be believed - very exotic, surreal and cheaply made. Mr. Webmaster, you'll love the cliched yet ethereal electronic score if nothing else.

(from Guestbook 100) David Bagsby said:
Thanks a zillion! "Wild, Wild Planet" is indeed that film. Seems like I saw it at the 11th Street Drive-In.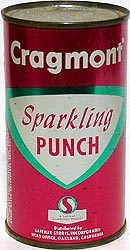 (from Guestbook 128) Steve Bagsby said:
Speaking of Drive-Ins, our clan spent a lot of time at the 11th Street Drive-In. Dad told me it was originally called the "66" and was one the first big landmarks you saw before getting into town. I can remember Mom loading up a metal ice chest with Cragmont Soda Pop (Sparkling Punch for David and me). Seems like it was a big deal in the 1970s when they added a second screen on the West Side. I do remember seeing a long line of tail lights stacked up on 11th whenever they had a big feature.
It made you appreciate the strength of a Ford Galaxie to have seen me and Dave climbing all over that car waiting for the show to start. Too much Sparkling Punch and Oreos I guess.

The dulcet strains of "The Blue Danube" strained through the tinny speakers at the 11th Street on Nov. 25, 1971, when "2001: A Space Odyssey" (which debuted in 1968 at the Fox in Tulsa) was on the bill.