Emily Spivy, Oct 20, 2013: "RSU TV had a 'UHF' location tour to celebrate the 25th anniversary of 'Weird Al' Yankovic's movie. Most of it was shot in Tulsa, Oklahoma, and many of the places it was shot are still there. Mike Ransom [TTM webmaster] and I co-hosted the tour. It was a blast!"

12/8/2017: Emily pointed out that TTM is credited along with Dr. Demento on the 2018 Weird Al Yankovic calendar!


"Weird Al" Yankovic wrote and starred in the movie, "UHF", shot mostly on location in Tulsa in 1988.

The "UHF" DVD contains an unusually detailed commentary by Weird Al. Most of the Tulsa locations used for the film were identified. I will use this weird color on these pages to indicate that the info came directly from Al. This site pre-dates the commentary, though, so there is much material not covered on the DVD.


More "UHF" on this site: Tulsa UHF locations & UHF-Tulsa connections
(from Guestbook 5) Mike Bruchas said:

"UHF - The Movie"! I must be the only person that saw it in general release and got a VHS of it free about a year later. I bought it because at about 10 places - it WAS funny. Also because they did do some location work in Tulsa around 13th & Boulder (by Quay's Delicatessen).

(from Guestbook 6) Mark Hyatt said:

I participated as one of the many extras in the movie. Two filming scenes I took part in were the Warehouse Market at 62nd and S. Peoria, where the scene was people running into the store, shopping for spatulas (the fictional name: "Spatula City")...
...the next scene took place at Rose Bowl Lanes on East 11th Street (old Route 66), where the scene was "Bowling for Burgers". I was there also as a participating extra.
Everybody had a hamburger in their hand, sitting or standing. I was below the camera shots during the takes but not seen, since I was among a crowd of people in the settee area behind two bowlers making their shots at the pins.
The one on the right with the black "Bowling for Burgers" shirt on was chief mechanic at Rose and today, he owns Pryor Lanes in Pryor. His name is Mick Sparks.
Arson was attempted at the Rose Bowl in late 2004. The perpetrator proved to be an extra from this scene! Despite sustaining almost no damage, the Rose Bowl closed for good in March 2005.
"Peg and Al Bundy" visited the Rose Bowl in 1987 to promote their new show, "Married... with Children", a year before "UHF" was shot.
(via email) Bryan Crain said:

One other note of interest...the "Dad" in the Spatula City commercial is Eldon Hallum...an instructor at Rogers State University in Claremore.


Here is Eldon Hallum today, looking a bit more professorial.


(from Guestbook 106) Jerry Oberg of Pierre, S.D. said:

Just a short note about UHF. It has become a "cult classic" of sorts here at the Boys and Girls Club. We show it on a wide screen TV with surround sound. The kids are already beginning to quote it from memory (which is a little frightening to say the least).

Also, I was a student of Eldon Hallum's at what was then Claremore Junior College. I have gone on to be a preacher, but got my start in public speaking in Mr. Hallum's class.



(from Guestbook 41) Lowell Burch said:
Wilma Jeanne Cummins, one of the many Tulsans who had been cast in the movie, walked up to me yesterday and said, "I heard your voice over here and knew it was you, so I had to come over and say 'Hi!'. Do you remember me?"

I said, "Of course I do! In fact, I just saw 'UHF' on TV a few days ago!" Mrs. Cummins asked, "Are they still showing that thing?"

No doubt about it, UHF is still popular. My teenagers watch it everytime they get a chance. So do I.
(from Guestbook 94) Jolie Ancel of Burbank, CA said:

I am a Segment Producer on The Tonight Show with Jay Leno and am always looking for the unusual/human-interest type guest. Know of anyone?

Apparently, this web site is the next-best thing to the second coming of Ted Mack, because...

(from Guestbook 96) Lowell Burch said:
I just saw Tulsa personality and UHF cast member Wilma Jeanne Cummins on Jay Leno playing her musical pop bottles.




(from Guestbook 41) Mike Bruchas said:
"UHF" - THE MOVIE! I loved seeing T-town throughout it and may have been the only person in Edmond, OK at the $1 movie house to watch it when it first came out.
Let's hear it for "Wheel of Fish"! Also the scene where Raoul of "Raoul's Wild Kingdom" shot at the old apt.building by City Plaza is delivered some badgers - "Badgers? Badgers? We don't need no stinkin' badgers!"....Sorry, John Huston.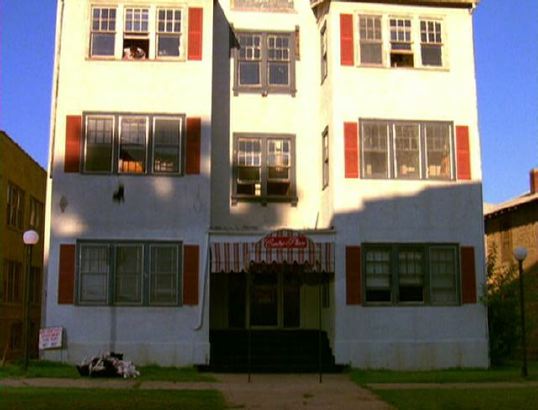 Shot at 330 E. 11th St.






(from Guestbook 94) David Bagsby said:
In response to the request for unusual talent; does anyone know if that guy who used to stand on his head and play guitar at the Turner Turnpike Toll Gate is still around?

Charles Marsh in "UHF"

(from Guestbook 94) Ricardo said:
The head-standing, guitar-playing yodeler D. Bagsby refers to is Charles Marsh. Don't know where he is or what he is doing these days. He has indeed appeared on Letterman several times doing his head-standing thing, as well as more than one appearance on the Chick Show.
I went to OSU with him in the mid-sixties, and he was always an interesting character. He clued me in on how to spot the "criminal ear" and other physiological traits in the human animal...ahead of his time, I suppose...



(from Guestbook 112) Sonny Hollingshead said:
Just saw Charles "Charlie" Marsh do his thing on Fox's "30 Seconds to Fame". He was eliminated by crowd vote at around 19 seconds into the act.




(from Guestbook 41) Bryan Crain said:

I have a question regarding the movie "UHF" ....where were the exteriors of the TV station (looks like an abandoned transmitter) shot? I heard it was possibly out west of Sand Springs.

(from Guestbook 41) Lowell Burch said:
The UHF TV station is on west Edison on the south side of the road, west of Central H.S. and east of Sand Springs. As with all movie sets and locations, it is nondescript, looks like an old transmitter shack and antenna in the middle of an over-grown field. It has a big asphalt parking lot, fragmented by weeds and time. You can drive right up to the old building.
(but in Guestbook 90 Lowell updated us:)
To confirm or disprove the comments of other esteemed contributors of this fine guestbook, I drove out to the West Edison UHF location to see for myself and, yes, it is true - Weird Al's TV station is gone. The drive and parking lot remains but now there is a portable barn-style building and a tower (cell, I guess) that seems to be sitting right on the site of the old building.



Emily Elliott took these photos 3/29/2002. She has a nice tour of Channel 8 (KTUL, not the evil Channel 8 of "UHF") on her web site.


There is no trace of the old building. The parking lot is recognizable, though. The tower looks just as it did when Philo (Anthony Geary) applied full power to override R.J. Fletcher's pious TV commentary with a tape showing his true feelings about the viewers. One of those viewers was Wilma Jeanne Cummins (above, and at the bottom of this page), who reacted badly to this revelation.




(from Guestbook 49) Sonny Hollingshead said:
Regarding the old radio station featured in "UHF": It's still the transmitter home of KGTO AM-1050 (formerly KFMJ) on Edison at around 57th West Avenue.
The studios were last used on-air during the early - mid 70's when KFMJ sister station KRAV FM-96.5 switched formats from "Top 40" back to "Beautiful Music" featuring Skitch Henderson (before he got into trouble).
The station changed locations and formats next in 1975. The new location was 16th and Carson. The new format - "Top 40"!




(from Guestbook 66) Ricardo Wilson said: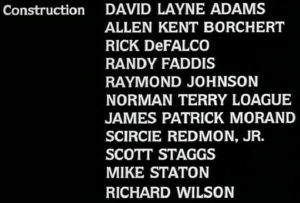 Ahhhh, UHF...I worked on this movie, in the construction department...we built the interiors of the television station in the Kensington Galleria, at 71st and Lewis, on unoccupied space on the second floor...( a large piece of unoccupied space) the rest of the Galleria was, indeed occupied, and open for business, but the shooting that went on there only took the last week or so of filming...the rest of the time, everything was shot on locations in and around Tussa...

The infamous wheel of fish...our call the day we shot the wheel of fish was 6 am, and the producers had obtained from White River Fish Market, approx. 160# of fresh, whole, dead fishes of various types from mackerel to sea bass, and other large types...these were wired, or directly screwed onto a large "wheel of fortune" type contraption (that worked vertically, not horizontally) with great care by me, personally...(being in the art department has its perks) under great pressure from the producers and art director to get it done, they are going to be ready to shoot at any minute, (you know the drill)...well, it took a great deal of creativity to balance the wheel with the various types and sizes of fishes so the wheel would indeed, spin and stop in random spots, and not go back to the same damn fish every time...(this, as it turned out, was in actuality a moot point, but.....who knew???)

Tulsan Lisa Stefanic on the left; White River fish on the Wheel of Fish.

Anyway...after loading the wheel with ever slimier and ripening fish...(starting, once again at 6am) we actually shot the segment beginning at about 4:30 in the afternoon...well, we had to light it, and the crew was after all off at another location in the morning, and was running behind....it was the director's FIRST FEATURE (he had done only music videos previously) so he was still somewhat in the dark, and...well, you know...oh, did I mention that there was no air conditioning in the unoccupied part of the building, and it was, indeed late July (or August, I'm not sure which) and the fishes kept getting riper, and riper, and riper, and we added a studio audience of about 100, plus lots of 10k's, 5k's, and well, you know movie lighting...boy, oh boy, I could see why that UHF station didn't make it...
Others in the cast besides Weird Al...a genuinely nice guy, and really funny...included...Michael (Kramer) Richards, Victoria Jackson (from SNL), Fran (the Nanny) Drescher (yes, folks, that really is her voice) and some other relatively large talents in roles of various sizes...can't remember all right now, as I've only seen the flick once, and don't have a copy of it...I'll find it for sale somewhere one of these days when I have some money in my pocket, if I ever work again, that is...
One highlight from the shooting of the movie was the day they stopped production in the middle of the day, and the president of the record company (Atlantic, I think) came to the set and presented Weird with his very own, first gold record, for "Fat" he was genuinely moved, and after about four minutes of revelry, we all went back to work...and Stanley mopped up, once again...


(from Guestbook 192) Wanda Baker said:
I just read the page about when the UHF movie was made in Tulsa in 1988. I hadn't heard of the movie before, because I moved away from Tulsa in 1988.
I was a dispatcher for the Tulsa Police Department, and on a VERY hot afternoon in August 1988, I received a police call from a man who said he was with a crew that was filming a movie in Tulsa. The guy said they'd used over 300 pounds of dead fish to film a scene ALL DAY LONG, they'd finished for the day, the fish were really beginning to smell, and how did I want them to dispose of the fish? It took me several minutes to satisfy myself that I wasn't on the receiving end of a prank call before I started trying to figure out how they could dispose of their fish.
Over the years, when people ask me to tell them about the strangest call I ever took as a dispatcher, I tell them about this one. I'm happy to finally know what movie it was and what the scene was about.
And by the way, I honestly don't remember how the fish were eventually disposed of.


There was a contest in Tulsa to be in "UHF". The winners were in the "Wheel of Fish" audience.

Shot at 6655 S. Lewis


(from Guestbook 66) Lowell Burch said:
Ricardo, that UHF was a great movie and Wheel of Fish is the one thing everyone mentions when the subject comes up. Good job.



(from Guestbook 66) Jerry Hawkins said:
Well, no sooner than I checked out your guestbook, another page revealed comments about the wild "Wheel of Fish" that was used in Weird Al Yankovic's "UHF".
Well, Lawh-Zee....ya got me on that one! I worked as an "extra" in that movie and was involved in that particular scene a lot. It was hilarious and funnier than a bag of chicken bones. I tried and tried to tell one woman...."Choose the Fish!"...but she just wouldn't listen to me. Weird Al was a momentous blast to work with.

(Move cursor over this pic to find Rob Bowe Tom Hanford...webmaster)


(from GroupBlog 273, 9/20/2008) Tom Hanford of Brady O (see Flickr set) said:
Sorry, Rob Bowe---the guy in the picture (captioned "The Citizens of Tulsa, OK, find Rob Bowe w/ cursor) with the moustache, ponytail, grey shirt and blurred right arm is actually ME.
Standing immediately to my right is my dear departed friend Tom Keith (in the light green shirt with glasses) whose association with Clu Gulager got us on as extras.
Tom and I can also be seen at end of movie as "Big Louie's" car pulls up to collect the money, and in the immediate background when Al presents "Stanley" w/ his trophy.
Sorry if you thought for years this was you, but I still have not only a copy of the polaroid of my "audition" in that shirt but still have the actual shirt! (also a "bootleg" video of rehearsals and outtakes from Stunts Unlimited, who arranged the stunts---the owner's son was the "fire hose boy").
(See Bob and son Adam Maras on the "UHF" - Tulsa connections page...webmaster)
p.s., Hello Richard Wilson!!


(via email, 6/12/2005) Rob Bowe (from Tulsa's own Rhythm Lizards band) said:
I was in the extras at the filming of the scenes at the "TV Station" out on West Edison Ave.
It seems that there are people looking for the building that was the studio at the base of the antenna. There actually was no building. The set crew built a facade around the tiny shack that houses the transmitter. I went back just a few weeks after the production company left to see the site and was shocked to see what little was actually there.
I never saw my ugly mug in the film but I am clearly in the pic of the Tulsa crowd waving at the bottom of the UHF page on your site. (see Tom Hanford's more recent note above for a correction---it was him!...webmaster)
My favorite memory of the whole shoot was when Billy Barty, the world's most famous midget actor, waddled up to my 6'4" frame during the filming of a scene that he was not in and said, "Hey buddy, can you give me a lift?" So, as asked, I reached down and heaved him like a beer keg up onto the hood of a truck so he could see the scene being shot. In spite of his lack of height, he wasn't very light! Then of course I hung around with him until he needed to get back down. He was the only star in the cast that I got close to at all.


Own a share of U-62 stock (for free!)
Webmaster, 6/22/2001: I visited Trek Expo today. Shook hands with Kevin McCarthy, star of "UHF", "Invasion of the Body
Snatchers" and The Twilight Zone episode, "Long Live Walter Jameson".

He recalled shooting "UHF" here in Tulsa at an abandoned mall (Kensington Galleria at 71st & Lewis). I told him that it was now, ironically, the TV Guide building. Presented him with official share number UHF0197 of U-62 stock emblazoned with a picture of his character, R.J. Fletcher,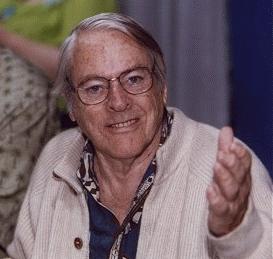 at the receiving end of Tulsan Wilma Jeanne Cummins' displeasure. He was amused and glad to belatedly get on board with U-62.
(Right: Kevin McCarthy at Trek Expo 2001, courtesy of Bill Powell. Can you believe this man is 87 years old??)

Visit the 2001 Picture Gallery at Starbase 21 to see (or purchase) other photos from Trek Expo 2001 by Bill Powell.
| | |
| --- | --- |
| | Weird Al's Official web site. |
Rob O'Hara said via email, 8/3/2005:

Using Weird Al's commentary track from the DVD, a friend of mine and I visited every location he mentioned in the film and took photos. Then I took screen shots from the DVD, and compared them in sort of a "then and now" article.

I did this in 2003, so it is titled the 15 Year Pilgrimage.


More "UHF": Tulsa UHF locations UHF-Tulsa connections