(from GroupBlog 301) Scott Linder said:

In the mid 60s, I recall recording a jingle for The Tulsa State Fair at KVOO which aired on every Tulsa station.

It was written by Mo Billington and scored for vocalists and a big-band with percussion. Jack Moore mixed it, and we did the session down in the KVOO television studio, as the radio studio on the second floor was too small.

I clearly remember the melody, but can't recall the lyrics, except for the opening "Here's to the Fair... the Tulsa State Fair..." opening line. We did a 15 sec full version, a 30 sec donut and a bed without vocals.

Jack Moore gave me a dub, but I can't find it now. Plus, it was on 1/4" and the oxide would have long-since turned to dust.

Does anyone else remember this jingle? I haven't thought of it in 40 years!!



---

Hear the 1965 Tulsa State Fair jingle ("Here's to the Fair! The Tulsa State Fair!"), courtesy of Joe Riddle and Wayne McCombs. (RealPlayer help)

See the 1971 Tulsa State Fair Mazeppa poster,
painted by Mazeppa (Gailard Sartain)
See the 2002 Tulsa State Fair poster, painted
by Gailard Sartain, at Mazeppa.com


The 2002 Tulsa State Fair poster by Gailard Sartain was criminally underpromoted...I couldn't even find one at the official TSF Souvenir Shop (I managed to get a copy after the fair). But Mr. Sartain's painting for it was excellent, as you can see at the bottom of the above-linked page. The 2001 Mayfest poster (also based on a Gailard Sartain painting) was probably the top seller ever for that event...webmaster



The Lone Ranger's 1980s visit to the Tulsa State Fair!




(from Guestbook 93) Mike Bruchas said:
"Tulsa Steak Fair" time - one of my favorite times to be in Tulsey.
Doing that night ride across the fairgrounds on the gondola thingie, too! Now I got that durned, "Here's to the Fair! The Tulsa State Fair!" jingle from the 70's runnin' around in my head! Ya'all have TRULY La Dolce Vita in Oklahoma! Just don't buy any siding in the IPE building! Or Vita-Master juicers!


The Tulsa State Fair is still held at Expo Square QuikTrip Center (renamed), adjacent to Bell's Amusement Park, whose rides become part of the fun at fair time...

(Written post-Tulsa State Fair, October 11, 2007) Bell's is no more. Why? The best explanation I've found is in this KOTV report by Terry Hood, edited by Jonathan Wooley.

Steve Smith had the idea to capture Bell's as it was from Google Earth and label the rides. I have a start on it. Let me know by email if you can ID any of the attractions.


Billy G. Spradlin provided this informative Phantasmagoria link and a Zingo bumpersticker: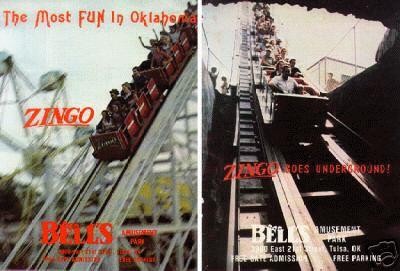 Zingo goes underground (courtesy of David Bagsby)

Did you know that the first Zingo was in West Tulsa's Crystal City Park in the 1920s?




Kirk Demarais sent these bumperstickers:



(from GroupBlog 230, 1/26/2007) Dana LeMoine said:
Well, Phantasmagoria is no more. There is a story on KOTV's site about it.

Bell's was evicted from the Fairgrounds by the Fairgrounds Trust Authority.


(from GroupBlog 234, 2/23/2007) Kirk Demarais said:
For anyone interested, I posted over fifty photos from a recent walk-through tour I took of the defunct Phantasmagoria ride at Bell's Amusement park. The pictorial post includes a rare glimpse of the workshop and even some secret passages that were used by employees.
Kirk has created a great site called Secret Fun Spot. In his Flash-powered Web Toon #2, "The Phantasmagoria", look for the White Lightnin' bumpersticker in the Bell's Amusement Park "souvenir shop" visited by his star, "Flip"!

Don't miss Web Toon #1, "Uncle Laff's Legacy". He also shot a live action film version, available on DVD. It's great...check it out!


Here is a photo of the 1970 Tulsa State Fair. You can see the old KELi satellite building in the midway, and the stock car race track to the east. (See the KELi page for a large close-up of the KELi Satellite.)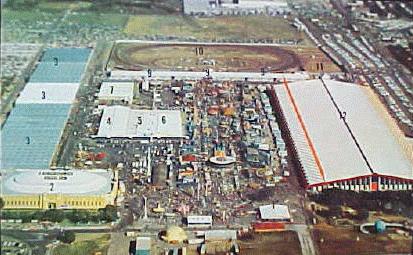 (from Guestbook 147, 9/28/2003) The webmaster said:
"Bobo" (aka "the Bozo", as in clown make-up) is back again at the east end of the midway, goading bystanders into paying to hurl baseballs at a target. If a hit is scored, the Bobo is immediately deposited into a tank of water.
Bobo takes note of people's weight, sex, ethnicity, personal style ("maybe you could throw better if you turned that cap back around, you big jerk! HA HA HAAAA-YIII-YIII-YIII!") in a way that makes me wonder if he would be better served by a bullet-proof enclosure rather than a mere barred cage. The grating laugh he appends to every abusive comment is enough to drum up business just on its own merits.
As per tradition, he is "high and dry" after climbing back up onto his perch following a dunking.
The Uncanny Film Festival and Camp Meeting's Gary Busey showed a flair for this job in the movie, "Carny"

(from Guestbook 193) Deric Davis said:
Rhett Matthews is making a documentary about Bobo the Clown. Mr. Matthews is also the owner of "Rhett & Company", the upscale salon on Brookside. He has a grand vision about his film and has been talking about it for the better part of a year.
He has quite a bit of passion for his film project. When he first told me about it last year, I did not know who Bobo was, but his enthusiasm for this film and its intriguing premise, made me a fan.
(from Guestbook 94) Ken Broo said:
Postings on the Tulsa State Fair jogs the noggin'.
It was 1978 and the fair came to town and the keen minds at Corinthian suggested (demanded?) we anchor our 5 pm newscast (in their infinite wisdom, they ditched a 6 pm newscast for a 5 pm show. Brilliant move) from the Fair.
Sounded like a good idea. In actuality, they had us positioned next to a hypnotist named "Vanderver" who saw reason to announce on a PA system at ten minute intervals that his "Show of Power and Amazement" was only moments away. Try listening to that for an hour, five days in a row.
Worse, they had us sitting at a table, in front of a single-tubed Sony ENG camera anchoring an entire newscast.
But here's how we really connnected with our audience. For the fine denizens of Tulsa who stopped by to visit with us, the KOTV newsies were more than happy to hand out plain brown paper shopping bags and books of matches. I'll never forget the joy and excitement on the childrens' faces when they left with those wonderful parting gifts!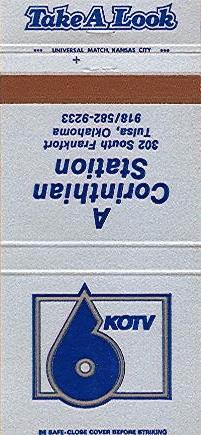 I think that hypnotist was "Vandermeade". I remember one with that handle, because my mom was hypnotized into buying his LP.


(from Guestbooks 9, 57 & 94) John Hillis said:
Two years of remotes from the Tulsa State Fair learned me two things: don't stand under the Golden Driller in a thunderstorm, and don't mix fried pickles and funnel cake.
I have forgotten those great state fair giveaways. I think we also gave selected winners "Take a Look" T-shirts (earth tone in glorious polyester) and 33 1/3 phonograph records of the "Take A Look" theme song:
"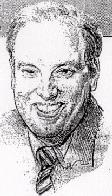 Take a look at Tulsa
From the Arkansas River to the Green Country lakes
Take a look at Tulsa
Growing with pride with each day that breaks
Take a look at Channel 6
Take a look at Channel 6
Take a look."
To paraphrase A.A. Milne, written out like this, it may not look like a good song, but sung to a prerecorded sound track by the absolute minimum of schedule-C Nashville studio singers, it wasn't.
I still have one of the "Take a Look" T-shirts we gave away in '78, though it was pretty cheap poly/cotton and after 22 years, the thread has just about disintegrated.
Shows on location were almost as much a treat to produce as to anchor. You always weren't sure how things would time out, and communications back and forth were, shall we say, fuzzy.
(Webmaster re the 2001 TSF:)

I witnessed Steppenwolf doing "Born to be Wild" and "Magic Carpet Ride", saw a goat show (not a boat show, a goat show), a hypnotist, met KOTV weatherman James Aydelott (a TTM contributor), and consumed a corn dog, Cajun shrimp on-a-stick, gator on-a-stick, a Philly steak sandwich, fried pickles, and a hot garlic clove (sorry, James). Didn't ride Zingo after all that...maybe Sunday.


(from Guestbook 94) John Hillis replied:
That's quite a fair diet there, Mr. Webmeister. I think you got most of the food groups (except for funnel cake). Didn't somebody tell you adults aren't constructed to eat stuff like that?
Oh, I forgot to mention that I had funnel cake, too.


Here is a photo of Boyce Lancaster, Sr. as 'Circus Jim' in the Tulsa State Fair, 1959. Bozo can be seen several elephants back. Boyce, Sr. attached a note: "Believe it or not, I rode that elephant 6 miles! I did a lot of standing up after that." (courtesy of Boyce Lancaster Jr. and Sr.)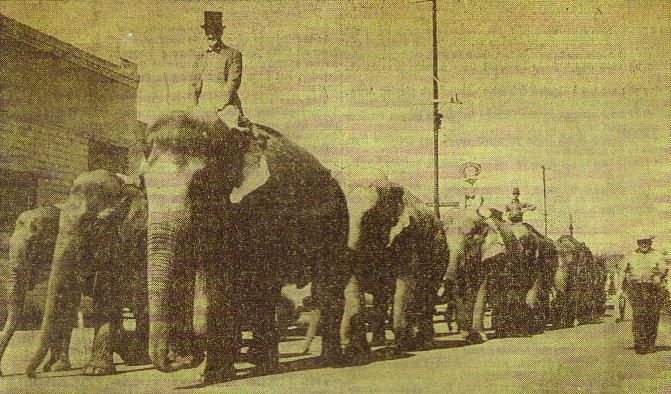 (from Guestbook 57) Lowell Burch said:
I loved the Channel 8 Talent Show. I always went to it and I remember that they did televise it some years. I played in it one year with my rock band. We didn't win but I remember that my friend, Chuck Douglas, had a band (The Infernos) and they did win.
For the first time in years I did not go to the fair but when I heard about the carney who was arrested for the crooked dart game I am reminded of one year when I took my kids along and one of them wanted to play the dart game. He missed the balloons completely but, surprise, the carney gave him a large prize anyway. Puzzled but pleased, I left the game to meet my wife who was waiting with my other children. The other kids saw us coming with our large prize and they wanted to play, too, so we went back to the same game. As before, the dull darts missed or bounced off of the under-inflated balloons. It didn't matter, they still won the larger prizes! One of the kids was not happy with the large prize he had won and pointed to an even larger prize. The carney happily handed it over! We left but I was really perplexed! I had never seen anything like this in my life!
It was much later as we were leaving the fair that I noticed the shirt I was wearing and all became clear. The shirt bore the emblem of a law enforcement badge and the words "Tulsa Citizens Police Academy", a leadership training program sponsored by the police department that I had once attended.


(from Guestbook 57) Mike Bruchas said:
Does 8 still sponsor the Talent Show at the Fair or am I flashing back too far in the last century? If they aren't - has another station taken up doing this? Or in this latte swillin' generation - is this too passe for the good people of Green Country?
Ya know - all them carny rides at the Fair - I'll ride Bell's stuff any day!
Though I appreciate the epicurean wonders you find on the Midway and you can't do the Fair without Bell's gondola ride over all at night - neato!


(from Guestbook 57) Denise Lundy said:
In answer to Mike B's question about the KTUL Talent Show...alas, it is no more. I really miss that little girl in the nightgown on her knees doing the Lord's Prayer in sign language! That was talent!!!


(from Guestbook 93) Mike Bruchas said:
Can someone do some culinary research while at the Fair for me?
Matt Bunyan told me a few years back - now one can find catfish-on-a-stick at the TSF at one of the food boothes.
See if you can find anything else-on-a-stick there - edible-wise...just keeping up with Tulsa cuisine.
Sad KTUL no longer does the Talent Show there!

Matt Bunyan at the KTUL Talent Show. He still owns Starship Records & Tapes. (courtesy Mike Bruchas)


(from email) Mike Bruchas said:
Matt was in the unenviable job of running house sound at KTUL AT THE FAIR for audience and feeding the white whale truck. Most talent gave us zilch info unless they had a record or tape to sing to......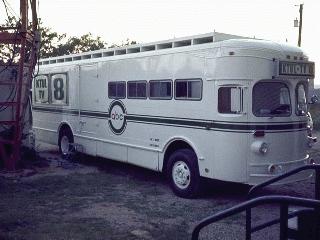 KTUL's white whale (courtesy of Mike Bruchas)


(from Guestbook 57) Denise Lundy said:
I spent an hour or two at this year's state fair and I must say that only in Oklahoma would you find a bridal gown entry in the exhibits section accessorized with a cowboy hat with a veil. I am still in awe!
Webmaster, 10/5/2004: The Tulsa State Fair Midway is a great place to stay abreast of fashion trends.

In this snapshot, courtesy of Joe Cunningham, we see a shotgun marriage of two sassy styles:

A casual tube top and hot pink spandex shorts conspire to lasso and hog-tie the gaze of unwary passers-by.

Classic cowgirl boots telegraph that this buckaroo-ette is "red-eye" to work the ranch, or kick back with a Milwaukee's Best.

10/2009: For more "fun" of this kind, check out People of Walmart.


(from Guestbook 57) Erick Church said:
Re: The Televac Personality Analysis computer at the fair...my analysis this year shows, among other things, that I am an idea person with great communications skills, and that my manner is tough and no nonsense, but that my spirit is kindly.
So there!
That "Handwriting Analysis Computer" (a glorified punched card sorter) hasn't changed in the last 35 years. When you've got a technology that works, why mess with it?
---

And now, this important message...
The trouble with buttons is, they always fall off!

Here's the perfect Christmas gift for Mom and Dad: the Ronco Buttoneer®!

No more fumble fingers with a needle (Ouch!)

Use the Ronco Buttoneer® to...

Fasten buttons, fix a hem,
repair upholstery, just like Jim!
Mend a cushion, pleat a drape,
fix your blouse, they'll stand agape!