Reflections on KTBA
by Don Cook, 12/2/2003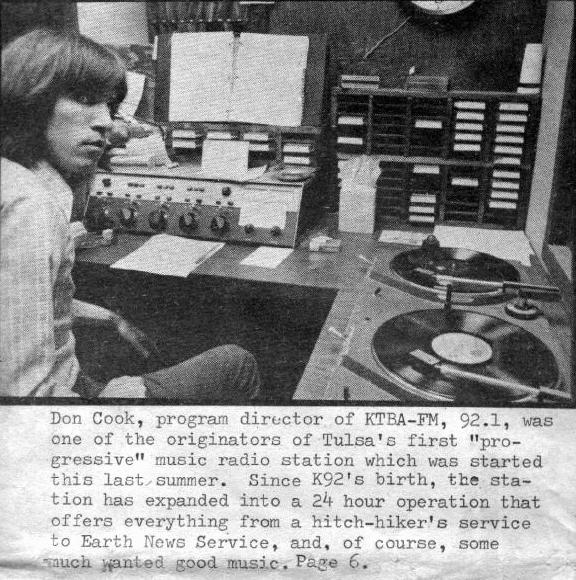 (From "The Tulsa Settler", Dec. 1973, courtesy of John Moore. Click to read the "Page 6" article.)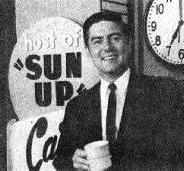 -FM, 92.1 in Broken Arrow,
was like a gestalt force of nature. It was bigger than the sum of its parts. Tulsa's most eclectic station ever (a mix of rock, acid-rock, jazz, blues, and folk-rock) was the first commercial radio station to follow up on what had begun at KWGS-FM at TU in the early 70's ("Subterrania"; see bottom of this page). Owner Bill Hyden was looking for a niche format for his 3,000 watt signal into a highly-competitive radio market, and timing was everything. For our listeners, the timing was perfect.
I had toyed with the underground rock radio concept on-air in South Texas in 1971-72 and discovered that I was way too ahead of the market there. In early 1973, I got a call from my old friend, Scott Yates, who was doing mornings at KELi. He said that Bill Hyden was looking for a professional radio guy to ride herd on his new Progressive Rock venture at KTBA. Bill and I hit it off very well, and I got the Program Director job. I was thrilled at the idea of doing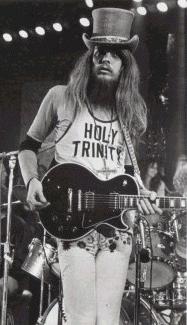 revolutionary programming in what was essentially Leon Russell's back yard. Leon was one of my biggest musical heroes.
I knew that our staple product was going to be the Beatles, Rolling Stones, Led Zeppelin, the Who, the Grateful Dead, CSNY, and Leon Russell. I also knew that our potential listeners' record collections were full of Bob Dylan, Santana, Eric Clapton, the Band, Joe Cocker, Janis Joplin, Jefferson Airplane, James Taylor, and Paul Simon. I came to realize pretty quickly that Tulsans were big fans of the Marshall Tucker Band, the Sons of Champlin, Little Feat, and Pink Floyd. I got a lot of guidance on local music tastes from Honest John Foutz at his record store across the street from Bama Pie.
I soaked up Tulsa nightlife at the Observatory and the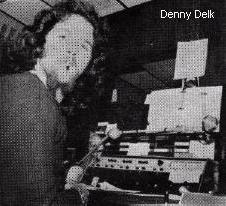 Magician's Theater, worked 16-hour days for the first 3 months, and hired an air-staff. Denny Delk (who also did the KOTV sign-off, and went on to a highly successful voice career) came in seeking the Program Director position about one week too late to get it, and we made him the Music Director and midday jock, with the responsibility of screening the new albums received at the station. I hired an ex-KWGS guy, Bob Edwards, to do 7P-Midnight and we dubbed him "Strider", in honor of the Tolkien character in the Lord of the Rings trilogy. Rob Wilson showed up and became "Rob on Your Radio" on all-nights. Stacy Richardson (see his article below) came from Dallas to do mornings. I was "Don and Records" from 3 to 7 in the afternoon.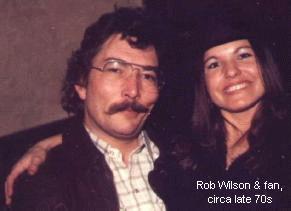 Our weekend staff included Denny's brother Kerry Delk and Matt Bunyan (also ex-KWGS and owner of the Starship head shop next to Honest John's).
The important thing to know is that everyone of these d.j.'s were completely knowledgeable regarding the music. Any one of them would have made a pretty good Music Director, and they all had strong opinions about what qualified as the goal of the station. The station advertising salesfolks weren't real sure what the hell they were selling, and I did my best to explain it to them. We managed to bring the audience a Leon Russell/Joe Walsh concert via telephone from Wichita, Kansas. We aired the syndicated

Flo and Eddie show from L.A., and our biggest coup was the National Lampoon Radio Hour, from New York—with John Belushi, Chevy Chase, Bill Murray, Gilda Radner, Michael O'Donoghue, Richard Belzer, Christopher Guest, Brian Doyle-Murray, etc, BEFORE they became Saturday Night Live on NBC.

We became the talk of T-Town when National Lampoon came up with their "Nixon Impeachment Special" in December of 1973. Bill Hyden put an ad in the Tulsa newspaper to advertise the show, and KTEW-TV newscaster Jack Morris took KTBA to task on Channel 2, accusing us of irresponsible, unprofessional broadcasting. I still thank Mr. Morris for calling attention to K92 Radio. He was our best advertising!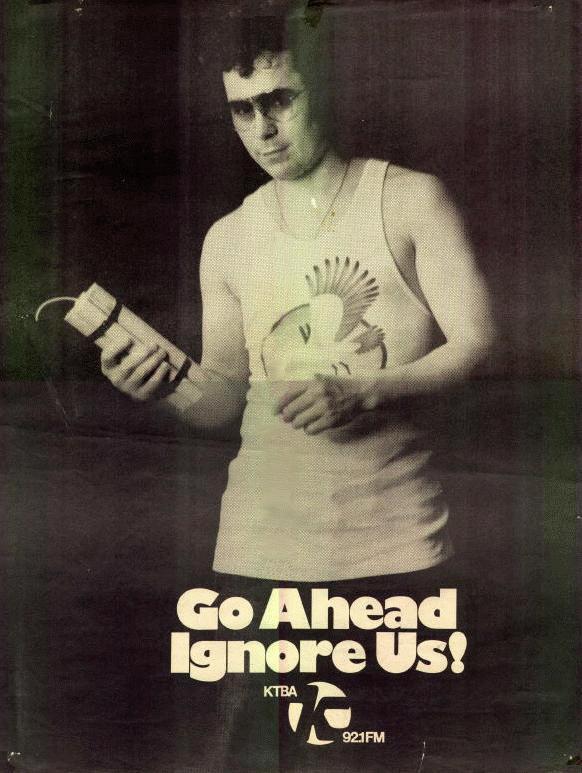 (Poster courtesy of John Moore via Don Cook)
The station was inspired by the San Francisco Flower Power explosion, Tom Wolfe's "Electric Kool-Aid Acid Test", the Woodstock movie, Firesign Theater's "We're All Bozos on this Bus", by Watergate and the Vietnam War – we were counterculture to the core. We didn't make much money, but there were lots of illegal substances, rock and roll, and wild women listeners. Just being around Rob Wilson was a lot like being near the eye of a hurricane, for all kinds of reasons. I won't bore you with how much fun we had on the charter bus trips to Oklahoma City concerts.
I'm glad that I'm still alive and that so many people apparently still appreciate what KTBA was to their lives. Most of the air staff moved on to KMOD and KKUL for similar adventures, and I'd gladly do it all over again. Tulsa needs an eclectic station now, more than ever. Maybe the kids will bring back free-form radio. Until then, I'm listening to KPIG and KGSR on the Internet.

KTBA letterhead, brochure and rate card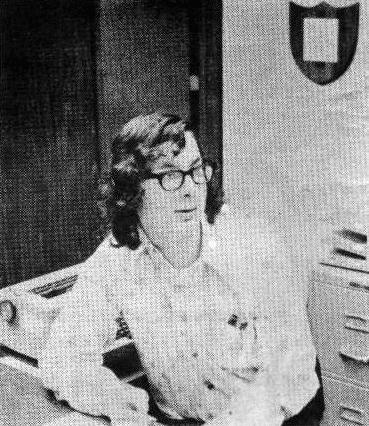 Stacy Richardson, from "The Tulsa Settler", 1973
The economics of free-form radio, by former KTBA DJ Stacy Richardson, commenting on a piece in the Tulsa World, circa late 1990s.

Having been associated with almost every cult-favorite radio station that's operated here, from KTBA in the early-mid 70s to EOI (Edge of Insanity) in the 90s, I also deplore the near-total disappearance of free-form radio in the U.S. However, I take issue with your assertion that corrupt DJ's were at the root of the problem.

I think the real problem was this: typically, a free-form radio station would develop a small or not-so-small, very loyal following; advertisers could reach that entire audience with the expenditure of only a few dollars. Stations with strait-jacketed formats are much more lucrative, creating audiences which are large, but relatively uninvolved. More advertising impressions are required to reach the listeners of boring radio stations, because the listeners aren't paying much attention to the stations' advertising.

Therefore, paradoxically, boring programming produces more revenue. As a result, all formats are carefully researched to keep it entirely within the comfort zones of the targeted listeners.

As with almost everything in America, it's about dollars; in this case, I believe the dollars causing the decline of free-form radio were the greenbacks coming from the pockets of mass-appeal advertisers rather than the dollars (and cocaine) emerging from the briefcases of record promoters.

Fortunately, a handful of free-form stations live on, and, even better, have an Internet audio presence. Surely you have checked out WRNR in Annapolis, Maryland, or California's KPIG. They carry the flame from the original torch: free-form progressive radio of the 60s.

(from Guestbook 104) Sonny Hollingshead said:
Just finished reading FM - The Rise And Fall of Rock Radio by Richard Neer.
It's a good chronology of what was perhaps the last U.S. major market free-form commercial Rock radio station, WNEW-FM in New York. WNEW-FM went from Rock to Talk in late 1999.
Those of you who have either worked in or remember free-form radio from the 60s and 70s will find this an interesting read. If you worked in the business many of the players will be familiar to you.


(from Guestbook 136) Don Cook said:
Hot off the press: A pic from the "Almost 30 Year Reunion" of the KTBA, KMOD, KKUL, KTOW Air Staff (1973-1979) at the Deadtown Tavern, Tulsa on 06/06/03. A grand occasion for some of Tulsa's nicest old hippies.
Not present: Charlie Derek and Brian Gill. Deceased: Scott Yates, Rob Wilson, and Bob (Strider) Edwards.

(Left to right) Brad Zimmerman, Cecil Norris, John Moore, Stacy Richardson, and Don Cook.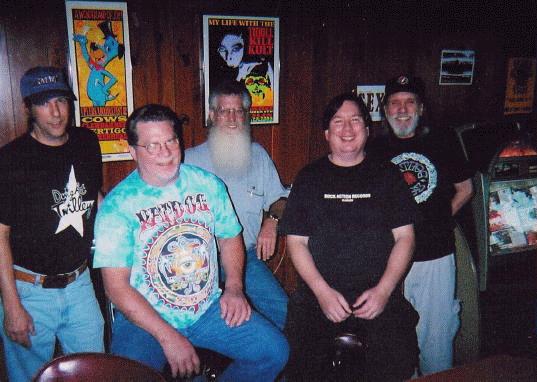 Postscript by the webmaster, 12/2/2003:
I just finished the first cut of this new page sitting in a room lit only by a 7Up Gizzer Blinkie and the glow of the computer screen. I'm listening to KGSR in Austin over the internet, a free-form station recommended by the main author of this page, Don Cook.
When KTBA was in its heyday, I listened in a similar room...at my parents' house. Personal high-tech consisted of my Sony reel-to-reel tape recorder, hooked up to my FM radio. I taped these new underground sounds, things like Steve Miller's "Blues Without Blame", Black Oak Arkansas' "Lord Have Mercy On My Soul", Pink Floyd's "Grantchester Meadows".
KTBA's DJs had a different approach from the Top 40 DJs we were used to: conversational, stream-of-consciousness, improvisatory, intuitive. They were personally involved with the music, as were their listeners.
We didn't know then how fleeting free-form radio would be, how good we had it. Once the dollar potential of the FM medium was demonstrated, commercial FM radio became increasingly formulaic in order to maximize profit. Unfortunately, much of the free-wheeling spirit of the enterprise was lost in the process of imposing order on the chaos that was underground radio.
As science fiction writer Harlan Ellison once said of television, "...that's how the best stuff gets on--absolutely by accident. It slips through when no one's looking."
Underground FM is long gone (except in a few scattered locales), but here now is the great democratic medium of the internet, where an individual can create his or her own station and stream it to the world.
Who knows, maybe someday, diverse music will be back on the airwaves in force. It already is in my house; I have my own FM transmitter, hooked up to my computer.

5/9/2008: I got word today from Stacy Richardson (GroupBlog #266) that Don Cook passed away at age 61 on 5/3. This is very sad news. But I am so glad that Don shared his memories of Tulsa underground radio with us.

The Valley Morning Star (Harlingen, TX) has a more detailed story about Don Cook with photo.

Cookzilla on LAUNCHcast - Don Cook selected over 12,000 tunes for his own internet radio station!

Read more about this era of radio history online at Radio Free Binghamton WHRW-FM (coincidentally, Rod Serling's home town). WHRW is another streaming free-form station worth listening to.

KRSC-FM (91.3) at Rogers State University in Claremore offers free-form pop/alternative, classic country, rockabilly, electronica and world music to the Tulsa area. Reception in south Tulsa is often better on the internet.

KWGS-FM (89.5) at the University of Tulsa, though not now a free-form station , carries a diverse selection of classical, jazz and folk music.

Before KTBA came on the scene, KWGS was carrying the local "Subterrania" progressive Rock program:


(From KWGS program guide, Nov.-Dec. 1971, courtesy of Mike Bruchas)